Comic Con 2010 - Part One
As I promised earlier -- and almost 3 weeks after the fact -- I'm going to post something about Comic Con 2010.
First, I have a confession to make. Like Christoph Waltz said during the
Green Hornet
panel... "I'm not a comic book fan." There, I've said it. As a movie buff and a film critic, I go to Comic Con to cover the movie panels and media news (I have a Press badge). So literally I stayed in Hall H (where most of the big movie panels were held) or Hall 20 (the other big venue for movies and TV shows).
I wasn't expecting much this year, since there's no big movie coming out like
Twilight
or
Iron Man 2
. But was I wrong. The few days in Hall H proved to me some of the best panels I've covered in the past three years.
On Thursday Hall H opened with the
Megamind
panel, and Will Ferrell showed up in full Megamind costume, complete with a huge blue ball on his head. Tina Fey followed and she was more beautiful in person than ever. Jonah Hill joined the panel, and then Will Ferrell said, "We have a surprise guest." He got everyone's hopes high (anticipating Brad Pitt's first Comic-Con appearance) but alas, he came out with a cardboard cutout of the mega-star. The rumor was that since Angelina Jolie would be at Comic-Con, Mr. Pitt had to stay home to take care of their brood. That made sense. Ferrell seemed rather subdue; perhaps the costume was too hot and too uncomfortable, or it was too early for him. Tina Fey, however, was perky and animated and funny and, again, very beautiful (in a bookish way -- just the way I like her). I had no idea what Jonah Hill was saying because I was too focused on Fey.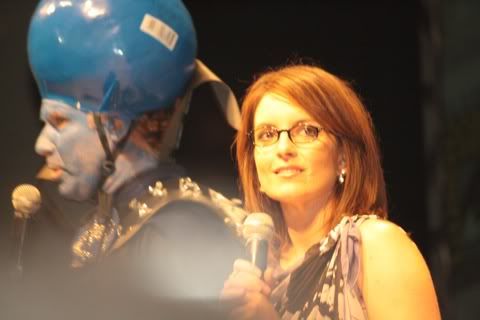 Will Ferrell, Tina Fey
Tina Fey
Will Ferrell, Tina Fey, Jonah Hill
Next up was the
Tron Legacy
panel. Since they "leaked" the trailer two years ago, the film has been one of the most anticipated in recent years, especially considering the original was released more than 25 years ago and became an instant classic. I was lucky to have attended a press conference with the cast and filmmakers. My thoughts: from the footage I've seen, it's going to be wicked. But I seriously doubt they could recapture the wonderment and spirit of the original. Something simply can't be duplicated. Plus they have a digitally altered Jeff Bridges (looking not a year older than 35) and he was kind of creepy... But I do think the sequel would be a fantastic ride nonetheless and the fanboys and fangirls should be pleased.
Jeff Bridges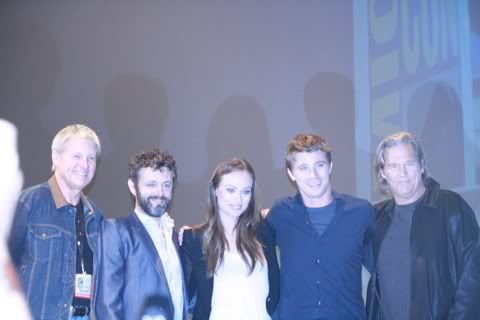 The cast of
Tron Legacy (
Left to right)
:
Bruce Boxleitner, Michael Sheen, Olivia Wilde, Garrett Hedlund, and Jeff Bridges
Next, Patton Oswalt came out and introduced Guillermo Del Toro, who talked briefly about what he was working on and revealed that he would be remaking Disney's
Haunted Mansion,
the way it should be made. He mentioned he grew up fascinated by the ride and he goes back to Disney World every year just to go to the Haunted Mansion, and he was happy to be directing the new film. Then he joked, "I didn't return Eddie Murphy's calls." I've met Mr. Del Toro before at one of his book signings and often find the guy genuine, funny, full of energy, talented, and imaginative. A true storyteller in every sense. When I grow up, I want to be just like him (except maybe a few pounds thinner).
Patton Oswalt, Guillermo Del Toro
Guillermo Del Toro
... to be continued...