Comic Con 2010 - Part Three
After the fun panel that was
RED
, we had a break and the next panel was the "Visionaries." Last year they had James Cameron and Peter Jackson, and it was very interesting. This year the roster included JJ Abrams and Joss Whedon. I like them a lot but they're no Cameron or Jackson.
However, I was surprised. They were both very candid and informative, and their stories of how they got started and their insights on the business were refreshing. Abrams was a bit uptight and serious, but Whedon was a hoot. I didn't realize the man was so funny. He had the audience in stitches with his witty remarks and self-deprecating humor. He also revealed (perhaps a bit immaturely) that he would be directing
The Avenger
. Now that's a coveted job! Abrams is, of course, shooting
Star Trek
2 now, but somehow he didn't want to talk too much on the production. Confidentiality clauses be damned!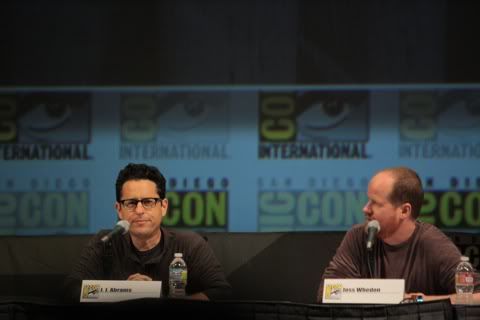 JJ Abrams, Joss Whedon
The next panel would prove to put every male in the audience to shame. Moderator Harry Knowles came on stage in his wheelchair and proceeded to say the cast of
The Expendables
would make him look like a cream puff. Sure enough, Terry Crew came out and ripped his shirt off, revealing his He-Man muscles. Following him was wrestler/actor Steve Austin, who was humungous. It was nice to see Dolph Lundgren after all these years and he looked the same (at least from a distance): tall, blonde, chiseled. Then wrestler/actor Randy Couture followed and he was surprisingly soft-spoken compared to the other He-Men. Jet Li and Jason Statham couldn't make it, but the star and producer and director Sylvester Stallone did.
I was honestly a bit starstruck. I've grown up watching Stallone since the first
Rocky
, and of course
Rambo.
Not really my idol, but it was still a bit surreal to see him right up there. The guys were funny and they bickered like the best of friends. The way they described the movie and the shoot made me wonder if they all had death wishes. Or was it just testosterone speaking; and the stage was overflowing with that stuff for sure. Sly kept jabbing at Austin for breaking his neck, and he wasn't joking -- during a shoot Austin accidentally broke part of Stallone's neck, who had a metal pin to prove it. Sly also told the story that 20 years ago he asked Dolph Lundgren to really hit him (for realism) while shooting
Rocky IV
, and Stallone ended up in an ICU for four days.
I loved this kind of anecdotes, and they remind me that moviemaking is not all glamour. There's a lot of hard work -- VERY hard work, long hours, and dangerous stunts. Actors get hurt all the time. Terry Crew and Steve Austin told the audience a story of how they almost got killed in a fire set off by a prematurely detonated bomb on the set. It sounded really scary, even as the actors joked about it.
The movie looked stupid (what can you expect?) but kick-ass, if you're an action hero fan. You won't be disappointed as you not only get one, but like five or six super-sized heroes for the price of one.
Then Bruce Willis made a surprise appearance and he chatted with the cast a bit. Willis has a cameo in the film (as does the Governator). These guys seemed like genuinely good friends. Stallone also told us how down and out he was, even though he had money and everything. He thought his career was long over but he wanted to finish the
Rocky
series right -- he admitted that
Rocky V
was crap and it was a bad way to end it. So he decided to put everything he had into making
Rocky Balboa.
It worked, and he said, "Then I got greedy." And that was how he started to get ready for
The Expendables
.
Before the panel was over, the Guinness World Record presented Stallone and Lundgren with two plaques:
Rocky
has been recognized as the most successful sports movie and franchise in history.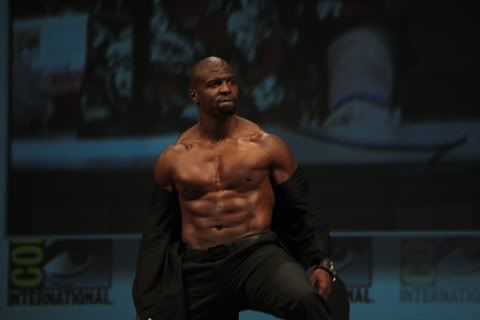 Terry Crew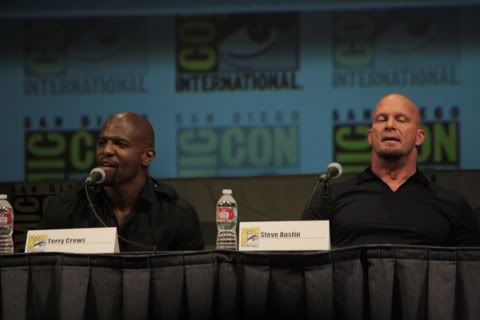 Terry Crew, Steve Austin
Dolph Lundgren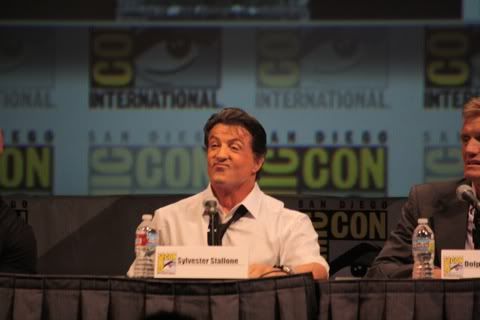 Sylvester Stallone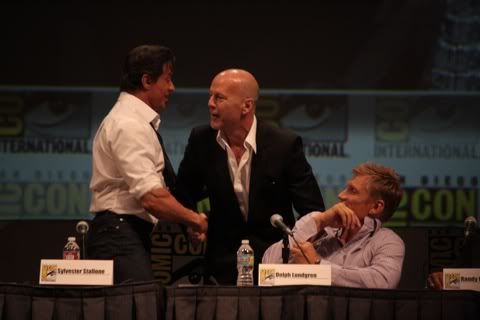 Stallone, Bruce Willis, Lundgren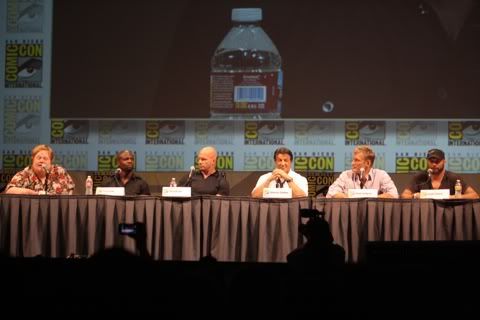 Harry Knowles, Terry Crew, Steve Austin, Sylvester Stallone, Dolph Lundgren, Randy Couture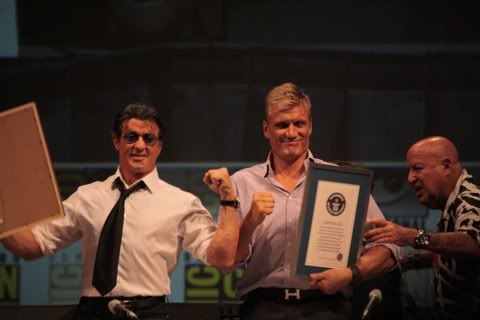 Stallone and Lundgren accepting the Guinness World Record
The last panel of the day (Thursday) was the much-anticipated
Scott Pilgrim vs. The World
. The advance buzz was amazing and judging from the crowd's reaction, I knew it would be really fun. The comic book was created by Brian Lee O'Malley, and he's Asian. No wonder one of Scott's love interests is an Asian girl (played by Ellen Wong). The cast who showed up included Kieran Culkin, Alison Pill, Brandon Routh, Jason Schwartzman, and Wong. They said Chris Evans couldn't attend because he was filming
Captain America.
The star, Michael Cera, showed up in a
Captain America
costume and told the crowd he, too, was up for the part but lost out to Evans. It was all a joke, of course.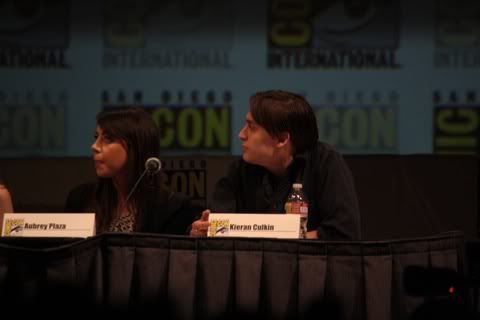 Aubrey Plaza, Kieran Culkin
Mae Whitman, Brandon Routh, Jason Schwartzman
Michael Cera
With the end of the panel came the end of the day (at least for Hall H).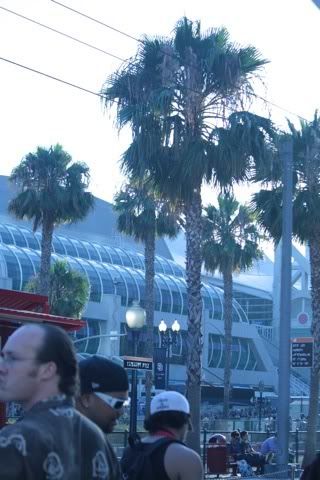 San Diego Convention Center