Comic Con - Part Four
I got to sleep in the next day (Friday) because the first panel wouldn't start until 11:30 a.m. and there was nothing else I wanted to attended before then.
When I got there there was literally no line -- a first for Hall H at Comic Con, on a Friday, no less. The first panel was for the
Drive Angry 3D
panel with Nicolas Cage, Amber Heard and William Fichtner. I saw Cage two years ago at the
Knowing
panel. He was talkative, trying to talk up the film, but I thought it looked dreadful. I think Cage should stop making action-adventure. His peak has definitely passed. Amber Heard, however, was stunning. She reminded me of Megan Fox without the brooding glamour.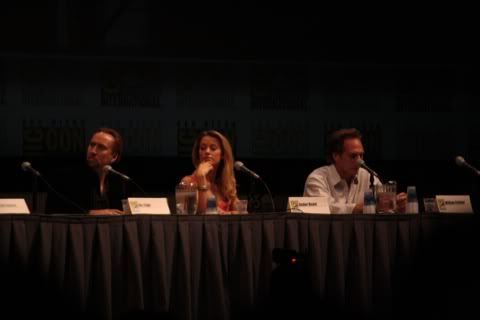 Nic Cage, Amber Heard, William Fichtner
Following that was the
Skyline
panel. It's a "low budget" movie shot by two brothers. who run a special effect company, mostly at one of the guys' condo in downtown LA. Granted, it's not really low budget since basically the writer-producers are footing the bill themselves, but still, it's very much an "independent movie." Colin and Greg Strause talked about how they'd got the film started, how they'd decided to make a film on their own since they'd all the equipment, software, cameras, etc. So they gathered a team of good friends and industry colleagues and some up-and-coming actors including
Scrubs
's Donald Faison and
Six Feet Under'
s Eric Balfour.
They showed a long trailer and some clips and the special effects looked great, considering it's a "low budget" movie. However, I couldn't help but feel the story was recycled: it was like the Body Snatcher meets War of the Worlds, with Cloverfield thrown in. I think that's the problem with you have special effects guys making a movie: they focus so much on what they know -- which is special effects -- and neglect the story and originality. I'm looking forward to seeing the film simply because I listened to these folks speak at the panel, but I'm not sure if it's something the general public would want...
Well, who am I kidding? Give them aliens, monsters, explosions and lot of running around and people getting killed by aliens, the fanboys and fangirls will be in line.
Greg Strause, Eric Balfour, Donald Faison, Scottie Thompson
When Rainn Wilson came on stage to plug his new film
Super
, I didn't know what to expect. Wilson is a rather offbeat person (I listened to him at the
Office
panel a couple of years ago). The idea of
Super
seems odd and, well, just like
Kick-Ass:
an ordinary guy decides to become a superhero.
Wilson was joined by director James Gunn, costars Ellen Page, Liv Tyler, Nathan Fillion, and Michael Rooker. Page was very down to Earth, and Liv Tyler was giggly and effervescent, while Fillion was witty and Rooker was hilariously droll. Gunn and the cast gave me hope that the film could be something better than I thought, and it was. They showed a few clips and the trailer and they were really dark and funny. Really dark. I like dark humor and that was just up my alley. They answered a lot of questions. It had to be the big "pleasant surprise" for me.
At one point, an audience member asked them who would win a fight between Dwight and Captain Hammer. Fillion and Wilson went into a mock fight and it was hilarious. Meanwhile, Liv Tyler continued to giggle her way through the panel -- she was adorable. In the film, Tyler plays Wilson's wife (yeah, like I'd believe that) who later becomes a junkie and leaves Wilson. He decides to become a super hero and Page is his friend who wants to help. Anyway, don't ask me about the plot. I just know the movie is going to be dark and funny.
Rainn Wilson, Ellen Page, Liv Tyler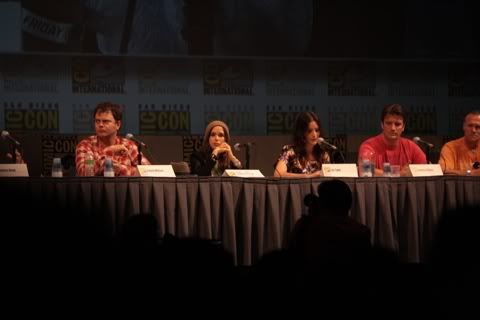 James Gunn, Rainn Wilson, Ellen Page, Liv Tyler, Nathan Fillion, Michael Rooker
Guillermo Del Toro got on stage to talk about a new horror film he produced: a remake of
Don't Be Afraid of the Dark
. The guy was just so funny and unpretentious, you know. He even gave out his public email address and tell any aspiring artists and storytellers to send him artwork or short stories (except 'pitches" -- he won't take them). The five-minute clip he showed was creepy, disturbing and scary. If you like horror films, you'd love this.
Next up was
Priest
, a graphic-novel fantasy about a war between vampires and a group of vampire slayers called Priests. * YAWN * OK, it looked really cool if you were into fantasies or graphic novels. Personally I'm tired of all that washed-out look, the stylized action, etc.
300
was so 2007.
The panel was boring, too. The only thing I remembered was Maggie Q talking about training for the film, and Paul Bettany he only got his ripped body for the movie -- one month after the shoot he was back to his "reader's body." I found that amusing: oh, what actors have to do for their art!
Paul Bettany, Maggie Q, Karl Urban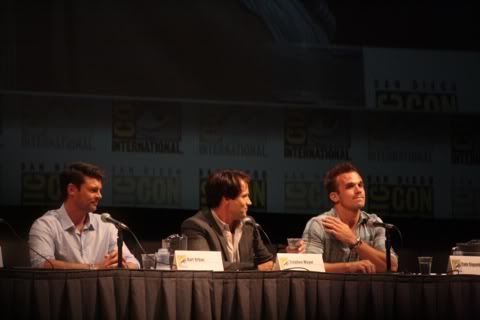 Karl Urban, Stephen Moyer, Cam Gigandet
... more later....