Comic Con 2010 - Part Two
Next up... the moment every reporter has been waiting for! Angelina Jolie's first appearance at Comic Con (plugging
Salt
). It was hailed as the most exciting thing since... well, Megan Fox's appearance last year. But to be honest, Ms. Jolie could wipe the floor with Megan Fox.
First, it was always good to see Liev Schrieber but come on, the guy looked like he was constipated the whole time. Perhaps he knew everyone was there to see Angelina and he was getting a bit irritated. But anyway, Jolie's entrance did cause a stir, and she looked stunning in a leather outfit that made her look very Comic Con-worthy. Was she trying to convince Christopher Nolan to cast her as the next Catwoman? She sure looked the part.
Jolie was in full MOVIE STAR mode. She was poised, elegant, refined and gorgeous. She smiled a lot and looked directly to the audience when she answered questions. She was extraordinarily professional. And did I say she was gorgeous? The movie may look kind of dumb, but the stars were very smart on stage and they did their part hyping the movie. There had to be like 100 photographers at the press area and it was extremely hard for me to get a shot of her. Fortunately, I got a really good center seat and was able to take some wonderful shot.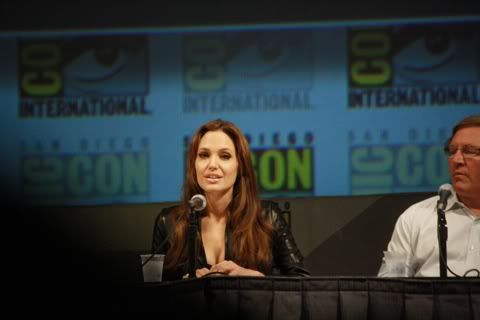 Angelina Jolie
Liev Schreiber
Angelina Jolie, Kurt Wimmer (writer), Liev Schreiber, Philip Noyce (director)
After that, Aaron Eckhart came out, followed by the director Jonathan Liebsman and co-star Michelle Rodriguez. They were plugging their new movie,
Battle: Los Angeles
, which had just started shooting. I never heard of the movie and apparently it was based on a popular video game. It's a
War of the World
-type alien invasion story, but told entirely from the point of view of a military team (think embedded journalism). They showed a few clips and they were INTENSE, probably some of the most intense battle scenes I've seen, but with aliens. The movie looked really good.
Aaron Eckhart
Michelle Rodriguez, Jonathan Liebesman, Aaron Eckhart
After they left the stage, Karl Urban came out and the crowd went wild (I suppose there were a lot of Trek fans in the crowd, even though
Star Trek
was hardly represented at Comic Con). It turns out he was there with Mary Louise-Parker, Helen Mirren, and Bruce Willis as part of the
RED
panel. Now, I love Helen Mirren and in person she was simply lovely and radiant, looking years younger than her real age. How does she do it? The cast bickered among themselves and Bruce Willis was in great form, great sense of humor. He and Mirren were great. MLP seemed out of place and terrified of Comic Con, but Karl Urban was the compete opposite. He was very at ease and he cracked tons of jokes. They showed the trailer of RED, about a bunch of retired CIA agents. It was a hoot! I can't wait to see it.
Karl Urban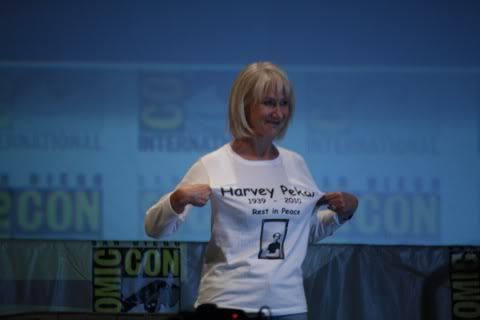 Helen Mirren
Karl Urban, Mary Louise-Parker, Helen Mirren, Bruce Willis
Helen Mirren, Bruce Willis
... to be continued...