Comic Con - Part Six
The next day (Saturday) turned out to be a bit of a bust. First, the weather turned hot. Normally I didn't really mind; it was Southern California, anyway. However, I hadn't expected to have to wait in line for hours. The day before I had no problem getting into Hall H. On Saturday, however, the line was extremely long, winding through the park by the marina behind the convention center. It happened that the first panel was Warner Bros. which included
Green Lantern
and
Harry Potter
, and many in line were there to see the latter. I'd misjudged the line, even though I was there two hours earlier.
After waiting in line for over an hour, I couldn't get into Hall H for the Warner Bros. panel. That was okay; I didn't feel defeated. And from what I heard later during the day, the panel was a FAIL. First, only Ryan Reynolds showed up for Green Lantern and they did not show any footage. He did give the fans something to look forward to and he was a good sport. Second, only Tom Felton (who plays Draco Malfoy) showed up for the Harry Potter panel. It was a huge letdown for the fans who want to see the entire cast.
A huge Skyline poster on the Marriott Hotel
So, I didn't miss much.
The first panel was
Resident Evil: Afterlife
, with Milla Jovovich, Ali Larter and Wentworth Miller. Personally, I'm not a fan of the series, but the effervescent Jovovich kept my interest. The audience was obviously in love with the series and the star, though.
Milla Jovovich, Ali Larter, Wentworth Miller
The second panel I attended was
Let Me In
, a remake of the Swedish horror. It's to be the first release of famed Hammer Films in a long time. Hammer, of course, was known for that cheesy, horror B-movies such as
Dracula.
On the other hand,
Let Me In
, though a low-budget indie, appeared to be neither cheesy or a B-movie. Directed by Matt Reeves (best known for TV series
Felicity
), the story is about a vampire in the form of a little girl, Abby, played by Chloe Moretz (best known as Hit-Girl in
Kick Ass
). Her caregiver is played by wonderful character actor Richard Jenkins. Abby meets young boy Owen (Kodi Smit-McPhee), who has no idea what Abby really is.
Matt Reeves admitted he took out some of the more controversial aspect of the original, including Abby's real gender and the sexuality. Instead, Reeves (who was quite a chatterbox) focused on the atmosphere and tone of the film. In one clip that they showed, he paid homage to Alfred Hitchcock and he told us how the scene was constructed (from the point of view of Richard Jenkins' character) and how, even though we know the character is doing something really bad, we would still root for him. It was always very interesting to hear the filmmaker speak!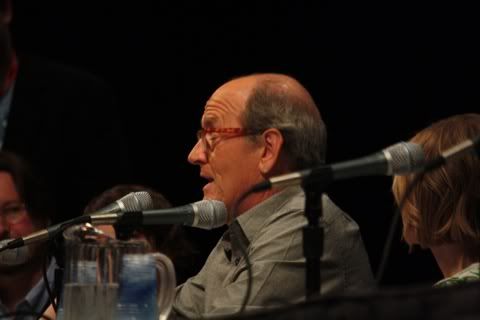 Richard Jenkins
Trailer Park followed: they showed about an hour worth of trailers, everything from the sugary
Charlie St. Cloud
to literary
Never Let Me Go
to
The Expendables
and Comic-Con favorite
Scott Pilgrim vs the World.
Now, why they showed trailers of
St. Cloud
or
Never Let Me Go
, I had no idea. Wrong audience! It was actually rather interesting listening to the reaction, and you kind of know which movie would do pretty well and which would tank (e.g.
Charlie St. Cloud
was met with sniggers and groans, while
The Expendables
was cheered by the predominantly-male crowd).
The most interesting reaction belonged to
Devil
. The trailer actually looked really creepy and scary, and the audience was enthralled, until the name of M. Night Shyamalan came on. That alone resulted in hisses and boos from everywhere. I think the poor director has burned all his bridges (the last straw being
The Last Airbender
). It'd be interesting to see how the movie fares at the boxoffice, because it really did look good (and for once, Shyamalan is giving us a real horror instead of that moody crap).
Now, as we approached 3 PM, the meat of the day was finally here. The next panel would be
Paul.
I'd not heard much about the film but knew it was about a couple of nerds attending Comic Con. Of course, that was a crowd-pleaser for the real Comic Con attendees.
And of course, the crowd went wild when the cast was introduced. Almost the entire cast was there. First,
Shaun of the Dead
co-stars Simon Pegg and Nick Frost, who played the hapless duo, worked up the crowd. They were closely followed by Bill Hader, Jeffrey Tambor, Seth Rogen, Jason Bateman, and the incomparable Sigourney Weaver. I was totally starstruck by Ms. Weaver, who looked so friendly and approachable in a red T-shirt.
The cast was amazing and articulate, and they really made us want to see the movie. They also managed to re-create Comic Con in New Mexico (since San Diego didn't allow them to film anything at the real Comic Con).
Sigourney Weaver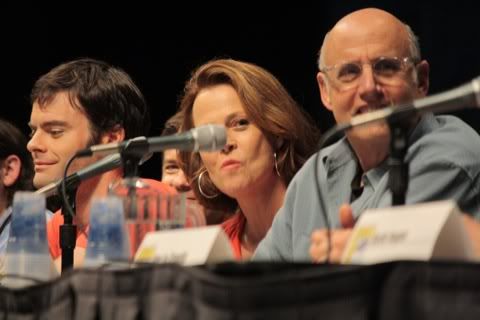 Bill Hader, Jason Bateman, Sigourney Weaver, Jeffrey Tambor
Before the next panel, there was a little incident in Hall H that I'm sure you all have heard about. I had been at the press area, and when I returned to my seat, there was pandemonium about six rows behind where I was sitting. I queried and apparently some guy had stabbed another guy in the eye with a pen. Hall H was in lockdown mode (no one could come in or go out) for about 90 minutes. In order to keep the audience entertained and quiet, they rerun the trailers, which were met with more groans. Fortunately, the mess was cleared up soon enough and the panels continued, albeit about two hours behind schedule.
Jon Favreau came out and we knew it was going to be something good. Favreau rallied the crowd before introducing the cast of
Cowboys & Aliens --
now that's a cross-genre sci-fi action-adventure hyphenated film I would want to see.
So, 007 himself, the uber-macho Daniel Craig, walked out on stage and the crowd went nuts. Then Olivia Wilde was followed by the groovy Sam Rockwell. Of course, the spotlight belonged to Harrison Ford, who was making his first ever Comic Con appearance. Ford was escorted in handcuffs by two security guards (they were mocking the "nerd-off" incident). It was hilarious. Ford looked like a homeless man, but he also seemed at ease with the huge crowd. So, Harrison Ford, Daniel Craig and Sam Rockwell on the same stage -- talk about man-crush galore.
But the ring-leader award went to Mr. Favreau, who riled up the crowd plenty, especially with a special clip he specifically made for Comic Con (this guy learned so much from the hype he generated for
Iron Man
when he showed an exclusive clip at Comic Con just three years ago). Let me tell you, it was a hot property. I'm sure you can get access to it somewhere on the Internet and if you do, please watch it. It's wild. First, Mr. Favreau did a great job (as did the stars) recreating a good-old western. The production, the lighting, the sets, the music, the atmosphere were all spot on. But we knew we weren't really watching a "western" when the UFO started showing up. That was just amazing. I can't wait to see this (they're still filming, so it won't be released until 2011).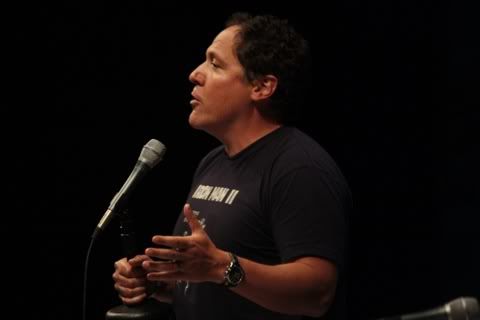 Jon Favreau
Daniel Craig
Harrison Ford in handcuffs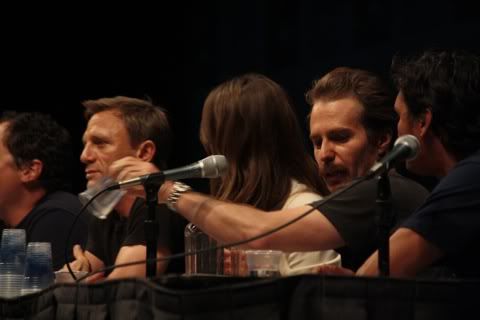 Sam Rockwell
Daniel Craig, Olivia Wilde, Sam Rockwell
Harrison Ford
Marvel practically had the next block monopolized. First, it was
Captain America
. A lot of speculation had been circulating around, and finally it was announced that Chris Evans was cast as the superhero. Now, in person, I think Evans looked a bit girlish (all pale and pretty). But he sure was very well-built and with the right lighting and makeup, I think he would make a good Captain America. Now, Hugo Weaver, on the other hand, was just kick-ass. He was in pure Agent Smith mode, giving us his trademarked grin and squint. Perfect.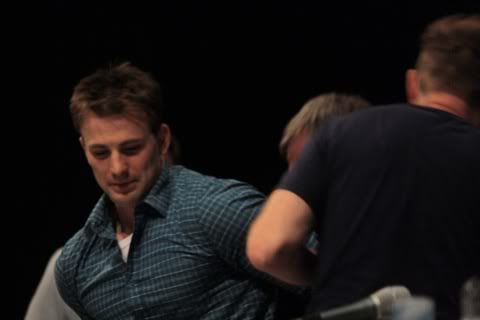 Chris Evans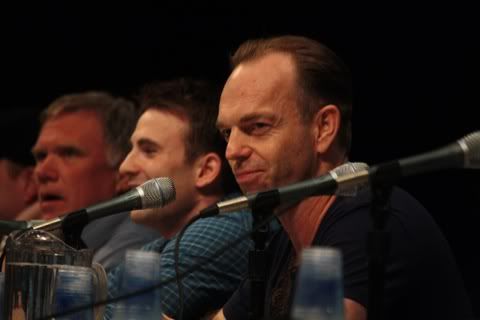 Hugo Weaving
Next up was Marvel's
Thor,
starring Chris Hemsworth of
Star Trek
) and Natalie Portman, directed by Kenneth Branagh. Now, Mr. Branagh's involvement is a strange one. Needless to say, he was usually associated with more "literary" or high-brow fair such as anything Shakespeare. So the hope is that Mr. Branagh would bring some class and literary pedigree to the production. The casting of Ms. Portman also hints at a more sophisticated, epic, and intelligent product than your everyday superhero movie.
Natalie Portman, of course, is too beautiful for words in person.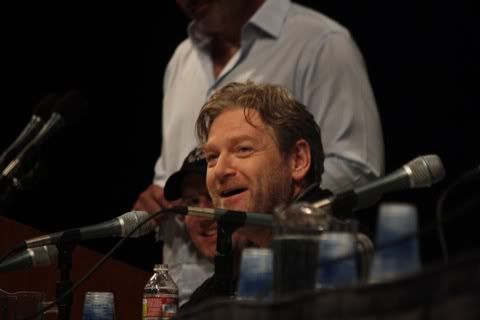 Kenneth Branagh
Natalie Portman
Chris Hemsworth
Just as we thought the panels were over, the Marvel's marketing guy came out (I don't remember his name, sorry) and told us they had a surprise for us. OK, given that it was almost eight pee em, we were willing to stay a few more minutes to see what was up.
I have to tell you, the Marvel people knew how to throw a party. One by one, they brought out the newly complete cast of
The Avengers
, the long-awaited Marvel series starring most of their most bankable superheroes. So there they were, for the first time together on stage: Scarlett Johansson (as Black Widow), Chris Hemsworth (as Thor), Chris Evans (as Captain America), Samuel L. Jackson (as Nick Fury), Jeremy Renner (as Hawkeye), Mark Ruffalo (as Bruce Banner -- the voice of the Hulk will be voice by the Hulk, Lou Ferrigno, himself), and of course, Robert Downey Jr. (as Tony Stark/Iron Man).
Now, that's AWESOME.
They got an extended standing ovation as the cast milked every drop of the crowd's enthusiasm. Director Joss Whedon also joined the superstars... I mean, superheroes. This is gonna be a great time for all -- to bad we'll have to wait until 2012 (and hope the world won't end before then).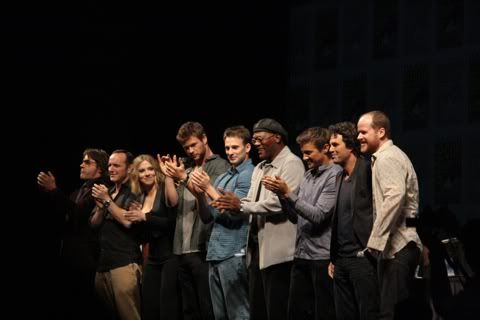 Robert Downey Jr., Clark Gregg, Scarlett Johansson, Chris Hemsworth, Chris Evans, Samuel L. Jackson, Jeremy Renner, Mark Ruffalo, Joss Whedon
That's all, folks. See you next year!
THE END